Owner and Head Chef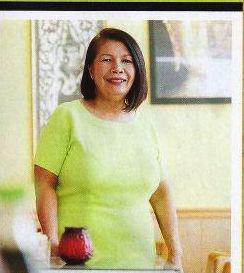 For nearly 20 years, Aurathai (pronounced OR-uh-tie) Sellas (pronounced say-yas) has been the Owner and Head Chef of Taste of Thai. If she is not busy in the back of the house or running around finding the freshest ingredients, there is a good chance she will come visit you and your friends and family at your table. It's not unusual for her to welcome most of her guests by name.
Aurathai was born in Nakhon Ratchasima (a.k.a. "Korat"), Thailand, in the northeastern province of Buriram. After immigrating to the United States from her hometown in 1972, she has accumulated more than 40 years culinary expertise.
Who We Are
Taste of Thai is an award-winning Thai restaurant located in Jacksonville, Florida. Our hallmarks are our flavorful dishes and friendly, accommodating, attentive service. If you are looking for memorable Thai cuisine that you'll be fondly remembering after your visit, you've come to the right place.
We are completely family-owned and operated. Since our establishment in 1997 — nearly 20 years ago — we have been committed to making your dining experience as memorable as a visit to Thailand itself! All of our advertising is done through word of mouth. We have garnered numerous accolades from culinary reviewers and the public over our history, including being awarded Water's Edge magazine's coveted Best of Jax titles 5 times.
Thai Cuisine
Thai food has really come into its own over the last few decades. People have come to enjoy the delightfully varied and balanced scents, flavors and spices unique to Thai cooking. Once you experience the delicate combinations of characteristically Thai staples, your taste buds will never be the same.
Thai cooking requires fresh ingredients. We ensure quality flavor by using only the freshest, leanest ingredients we can find. Here is a short selection of ingredients characteristic of our cuisine:
* lemongrass
* ginger
* galanga (a root similar to ginger)
* basil
* kaffir lime leaves
* basil
* coconut milk
* hot Thai chili peppers
Although the flavors of the food at Taste of Thai derive from all of Thailand, the Aurathai's culinary palate is most influenced by her origins in northeastern Thailand.